The plan was to age in your home. Then, some life event happened and that doesn't seem like the best choice. Now what? Here are three areas to consider:
What are my living arrangement choices?
The choices range from continuing to live in your home with services brought into your home, to leaving your home to receive some services, to transitioning to a different living arrangement which offers aging services. Fortunately, Senor Living.org has produced a bubble chart detailing these senior living options. The below chart does a nice job giving a visual of level of care and supervision versus the relative cost of each choice. It also gives an overview of what each service consists of. Here is a legend for some of the acronyms:
CCRC = Continuous Care Retirement Community
PCM = Personal Care Manager
ADL's = Activities of Daily Living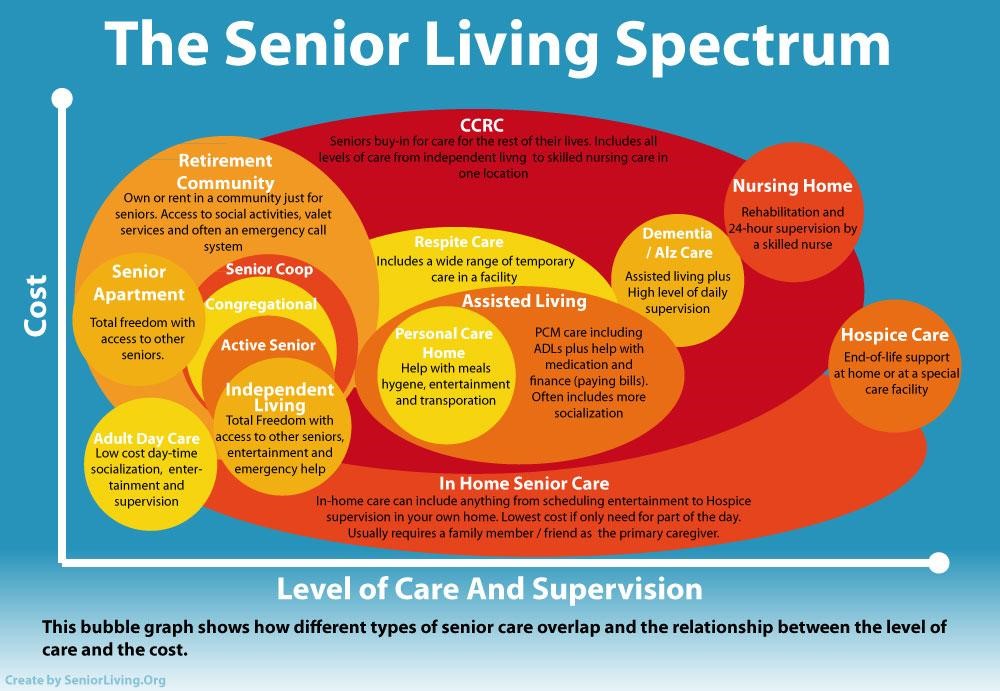 There are professionals that can help you decide which choice is best for you. Before hiring a professional, ask how they are compensated. Some professionals get compensated from placing clients with particular communities. This is fine, but they may not show you communities for which they don't have this type of arrangement.
What am I willing to accept or change?
Some seniors are adamant about staying in their home. Who will help coordinate care needs, as well as what will the care cost? As needs change, who will coordinate these different resources? Options from aging in your home to transitioning to a Continuous Care Retirement Community are many. Transitioning to a Continuous Care Retirement Community (CCRC) transfers the care resources to the CCRC. This can be a huge burden relief for families. There is a financial consideration with this choice. Some financial questions to consider with this choice are:
How much does the community cost to join and is there an ongoing monthly fee?
Will the community take long-term care insurance and how does this work?
What's the financial health of the community and should you deplete your assets, is there a benevolent fund?
Is there any tax benefit being part of the community?
How do I transition to my next living arrangement?
The thought of transitioning from the home you've raised your family to some senior living arrangement is a daunting task. On the minds of seniors when confronted with this topic: how will I get rid of some of my stuff, what should I keep, how will I sell my house, where will I go, can I afford it, how will I move from here to there and what's best for me? It's overwhelming, and since it's overwhelming, it's easier to do nothing.
Consider assembling a team of professionals:
Home contents: Decide on what you can and cannot take. There are professional organizers that can help with this task. Also, there are home downsizers that can help either sell, donate or discard items that won't be moved.
Selling the home: Work with a realtor to ready your house for sale, market and sell your home. There are some realtors that specialize in the senior market.
The move itself: Oftentimes continuous care retirement communities have relationships with local movers that can move the contents.
These are just a few of the items to consider. Remember, as we reach our later years, we strive to maintain control of our lives, while at the same time, we search for a legacy. This is what's on the minds of those going through this process. This transition is huge in both of these areas.
We have plenty of experience helping clients with this type of transition and other decisions related to aging. We'd welcome being able to help.