For this quarter, we're spotlighting Client Care Specialist, Julie Picariello, who just recently celebrated 25 years with Marshall Financial.
Outside the Office
During quarantine, Julie kept busy by enjoying British crime shows on Netflix and reading books by John Grisham, James Patterson, and Susan Elizabeth Phillips. Julie is looking forward to visiting with her six grandchildren and catching up on cancelled travel plans to Stone Harbor, New Jersey and Amelia Island, Florida.
She recently downsized to a new home in Perkasie with her husband Joe. They've been hard at work decorating and making the new space their own.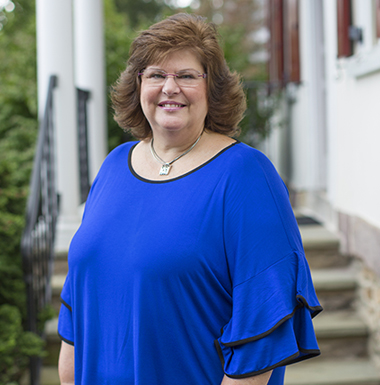 In the Office
Julie wears multiple hats at the office. She is one of our senior Client Care Specialists and gets up close and personal with her clients, helping them with a variety of needs. She has great attention to detail and is always seeking creative solutions to problems. She also acts as our ambassador to introduce Marshall Financial to prospective clients.
Additionally, using her experience in helping clients navigate through the multiple and often confusing changes that come with aging, she has developed a process for us to use firm-wide to help other clients navigate through new challenges.
Disclosure: Marshall Financial Group, Inc ("Marshall Financial") is an SEC-registered investment adviser with its principal place of business in Doylestown, Pennsylvania. This newsletter is limited to the dissemination of general information pertaining to Marshall Financial Group's investment advisory services. Investing involves risk, including risk of loss.
This newsletter contains certain forward‐looking statements (which may be signaled by words such as "believe," "expect" or "anticipate") which indicate future possibilities. Due to known and unknown risks, other uncertainties and factors, actual results may differ materially from the expectations portrayed in such forward‐looking statements. As such, there is no guarantee that the views and opinions expressed in this letter will come to pass.
For additional information about Marshall Financial, please request our disclosure brochure as set forth on Form ADV using the contact information set forth herein, or refer to the Investment Adviser Public Disclosure web site (www.adviserinfo.sec.gov). Please read the disclosure statement carefully.