Buying or renting your primary residence is a question almost everyone asks themselves during their lifetime. Some people believe owning a home will give them a sense of pride and stability, but overlook the many variable costs associated with home ownership. Others want the freedom to be able to move on their terms, but become frustrated with the lack of freedom for personal renovations. There's a lot to consider when determining what's right for you.
Pros and Cons of Buying a Home
Buying a home can make sense if you plan to be in the home for at least 7 years and are comfortable with greater financial obligations. There are several upfront costs to plan for such as a down payment, closing costs, moving costs, and possible renovations, to name a few. In addition, you'll be responsible for paying for homeowners insurance, property taxes, and unexpected home maintenance annually. There is a lot of open-ended financial responsibility with buying a home.
Some people purchase their home by getting a fixed-rate mortgage. A mortgage is a loan to you backed by the value of the home and is typically paid back over 15 or 30 years with interest. Some homebuyers think it's required to put down 20% of the home price as a downpayment, but that's not always the case. Mortgage debt can be considered as "good debt" because you're paying for an appreciating asset over time, at a cost that doesn't inflate.
Feeling comfortable with the financial responsibility can come with benefits. Owning your home gives you the freedom to make it your own, offers potential tax benefits, and can allow you to save by way of home equity. With a fixed rate mortgage, the principal and interest portion of your mortgage payment is locked in, so you know how much it will cost each month for the foreseeable future without the risk of it increasing. You can also refinance to lower payments if interest rates decrease.
Owning a home comes with risks. When you want to sell, your freedom is limited by the markets' demand and it's possible you can't sell or don't sell it for as much as you paid. Buying a home can offer you the lifestyle you're looking forward to, but you should be comfortable with the costs associated with it.
What About Renting?
Renting a home can make sense if you're new to an area, uncertain of how long you'll live there, or not financially comfortable with homeownership. Renting is more cost effective because you usually only pay a security deposit and a couple months' rent up front. You usually aren't responsible for property taxes or maintenance and can generally obtain a renters insurance policy for minimal cost. The cost of renting a home is typically more close-ended and predictable.
Renters sign a lease for a specified time, which provides you with the flexibility to move as desired without needing to sell a home. Additionally, the rent payments are known for the term of the lease, making it easier to budget and save for other goals.
Renting comes with less financial responsibility, but there are drawbacks. Even though rent payments are known for the lease term, this does not prohibit your landlord from increasing rent when the lease term expires. You are also at the mercy of the landlord, who may restrict you from completing renovations or could sell the property, leaving you searching for a new place to live. You aren't building equity in your home either, so creating a plan to save for future goals is important.
Renting vs. Buying
Many people make the point that "renter's pay their landlords mortgage", but this statement is not always true. The open-ended costs associated with homeownership could equal or exceed what you would pay for renting the same property. On the other hand, after many years of renting, you could lose out on the potential equity you would have accumulated through owning a home. Below, we've broken down what to consider when making your decision.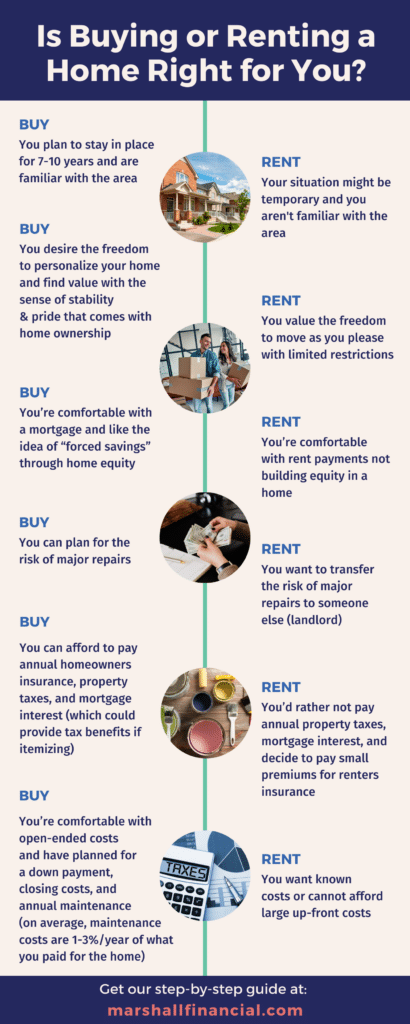 The Bottom Line
Buying a primary home should be viewed as a lifestyle choice, not necessarily an investment. Our goal is to make you aware of what to consider when making this decision. Everyone needs a place to live, so knowing what's important to you will help you make your best decision.